Orthodontics
More and more adults today are seeking orthodontic treatment to improve their smile. Often times, because adults usually are more compliant in their orthodontic treatment, their results turn out far greater than with a child and or a teen. Orthodontic treatment is not only designed to improve your smile's appearance, but also, to improve the health of your teeth and gums. If you have crowded or overlapping teeth, you may be unable to reach those areas and run the risk of severe tooth decay, gum and bone loss, irregular wear of tooth enamel and possible TMJ/TMD pain. Recent improvements in traditional braces have resulted in smaller, stronger, more efficient and less conspicuous brackets. Conventional braces with metal brackets are the most familiar, however, clear and tooth-color ceramic and plastic brackets are now available.
Looking for an alternative to braces?
ClearCorrect is the clear and simple choice. No wires. No brackets. Just clear, convenient comfort. Every reason to smile!

What Is ClearCorrect?
ClearCorrect is the clear and simple way to straighten your teeth without wearing braces so you can show off your smile! With ClearCorrect, your dentist or orthodontist can straighten your teeth using a series of clear, custom, removable aligners. Each aligner moves your teeth just a little bit at a time until you eventually get straight teeth.
Braces are bonded brackets, archwires and elastic bands that move crowded or spaced teeth into the proper position for appearance and function.

Over a period of time, teeth will shift if constant, gentle pressure is applied. Brackets are bonded to the front surface of each tooth and wires are attached to the brackets with elastic bands. The slight tension on the wire is gently transferred to the bracket through the elastic band.

Today's orthodontic treatment is faster, comfortable and more fashionable than ever for children, teens and adults.
Dr. Mireles, an Invisalign dentist in Salinas, often recommends an Invisalign procedure rather than traditional braces. Invisalign is the breakthrough technology that lets you have the smile you've always wanted without the hassle of braces. By using a series of clear, removable aligners, Invisalign straightens your teeth with results you'll notice sooner than you think. The course of treatment involves changing aligners approximately every two weeks, moving your teeth into straighter position step-by-step, until you have a more beautiful smile. And unlike conventional braces, these clear aligners can be removed while you eat and brush your teeth as usual. An average Invisalign course of treatment takes about a year.
The Invisalign Advantage Over Braces

When choosing an option for straitening your teeth, it's important to consider what works best for not only your appearance, but your lifestyle as well.

| Â  | INVISALIGN | BRACES |
| --- | --- | --- |
| Effectively treats a wide variety of cases, including crowding, spacing, crossbite, overbite and underbite. | X | X |
| Straightens your teeth | X | X |
| Average cost is about $5,000* | X | X |
| Allows you to eat whatever foods you enjoy | X | Â  |
| Lets you remove the device when you want | X | Â  |
| Lets you enjoy virtually invisible teeth-straightening | X | Â  |
| Allows you to brush and floss your teeth normally for better periodontal health | X | Â  |
| Consists of smooth, comfortable plastic instead of sharp metal that is more likely to irritate your cheeks and gums | X | Â  |
| Frees up your busy schedule, with office visits only every four to six weeks | X | Â  |
| Invisalign Teen: Provides up to six free replacement aligners if lost or broken.** | X | Â  |
* November 2010 Invisalign Patient Survey
** Invisalign Teen Only
Invisalign Website
Invisalign Self Assessment
Class I - A malocclusion where the bite is okay and the top teeth line up with the bottom teeth, but the teeth are crooked, crowded or turned.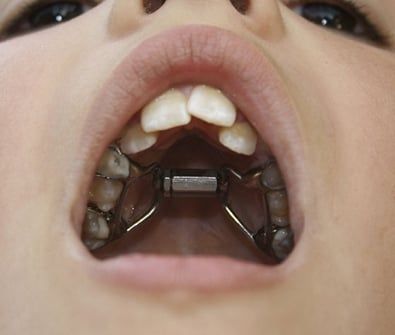 A palatal expander is an appliance placed in the roof of the mouth to widen the upper dental arch, which allows the arch to be painlessly separated and spread. A treatment used for younger patients. Many times a palatal expander can be used to create a proper alignment of the arches so permanent teeth have room to erupt in a natural position. Often, the use of an arch expander early may eliminate the need for braces later.