Hi-Tech Equipment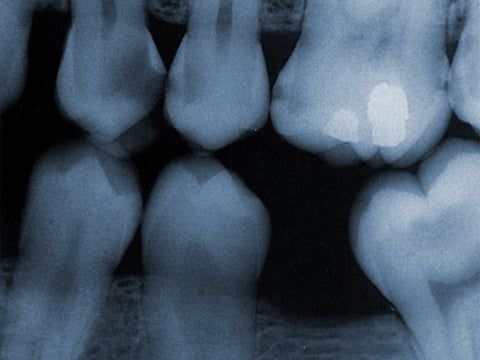 Our office uses the latest in digital x-ray technology. Digital x-rays offer a detailed image of your entire mouth and also deliver 90% less radiation than traditional film x-rays. X-rays play an invaluable role in the diagnosis of periodontal problems as well as provide a clear picture for Dr. Mireles to accurately diagnose the problem and provide clear treatment regiments.

We place a small sensor in your mouth and then an x-ray beam is sent through your teeth and bone and onto the sensor, which records the image of your teeth and bone and sends it to the computer. The sensor can then be repositioned to capture images of other sections of your teeth and bones. The digital dental x-ray system is more sensitive than dental x-ray film systems so your exposure to x-rays is cut by 90%.

The large enhanced images that you see are what Dr. Mireles sees, so it is easier for you to understand how they will treat your teeth and bones. Your periodontal checkups take less time and it is fun to watch the system work. Most patients are amazed.
Whenever possible we use air abrasion rather than a drill. Air abrasion takes less tooth structure than a drill. Air abrasion also eliminates vibration, noise, and the odor associated with a drill procedure.
Your tooth can then be filled with a strong chemically bonded material that can be matched to the color of your tooth making it appear nearly invisible. Tooth colored fillings are beautiful in appearance and can be completed in a single visit.
Single visit whitening uses a special light that is able to activate a higher concentration of whitening solution in order to produce quicker and more dramatic results. Our technicians protect your mouth very carefully and the whole process takes around an hour.
No more conventional impressions, temporaries and long waiting periods.

No Conventional Impressions
The CEREC 3D measuring camera scans the prepared tooth in just a few seconds. This eliminates the need for unpleasant silicone impressions.

No Temporaries
CEREC restorations are milled out of a solid ceramic block in just a few minutes. They are then ready to be placed immediately. This eliminates the need for temporary fillings and crowns. It also means that you need only one appointment. And you don't have to wait for days on end until the ceramic filling is finished.

No Long Waiting Periods
Because CEREC restorations can be placed immediately, you need only one appointment. And you benefit from tooth restorations which have demonstrated their durability time and time again.